See on Scoop.it – Référencement local SEO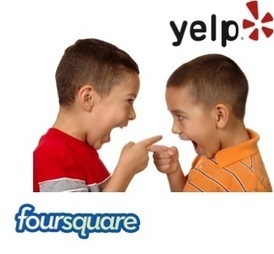 For business travelers, it's easy to see why mobile access to discovery tools like Google Places, Yelp and Foursquare is so critical. Determining where to go to get coffee, lunch, printing help, dinner, drinks, etc., often happens at the last minute. What about non-business travelers? Yes, we all have our favorite places to eat, preferred […]
Mohammed ALAMI's insight:
At first blush, it might appear that Foursquare is the winner due to the number of pros. Or, you could determine "game over" by Yelp's sheer number of users and the fact that it comes up in organic search (and usually in the first page of results). However, it's not that cut and dried. The real winner is determined by first figuring out what kind of customers you as a business owner are trying to attract.
For businesses that have younger, more social customers, Foursquare is an easy choice. Foursquare would also do itself a favor by pushing harder into the regular business traveler market (their tool is one of the best in the business for regular visitors to other cities). Foursquare is also a shoo-in for those businesses that seek to attract tastemakers or those that are looking for the trendiest places.
Yelp has been around longer and has a more established base of reviewers. Yelp has also won the war of selling small- and medium-sized businesses on the value of courting customer reviews. Yelp has also done a better job diversifying outside of the bar/restaurant/hotel industry. In fact, more than two-thirds of their reviews are for non food and beverage establishments. Last but not least, Yelp is still more of a household name — so, for businesses whose customers skew older and/or are more inclined to research their choices ahead of time, Yelp is the right choice.
See on marketingland.com