See on Scoop.it – SEM Strategy – E-commerce – E-Marketing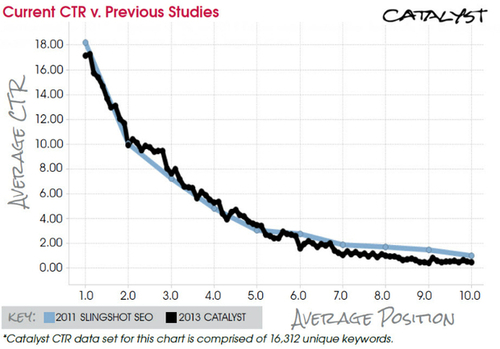 Using the Slingshot CTR study (and a few others) as inspiration, Catalyst thought it would be beneficial to take a fresh look at some of our own click-through rate data and dive into the mindset of searchers and their proclivity for clicking on the…
Mohammed ALAMI's insight:
How is the 2013 Catalyst CTR Study Unique?
RECENT DATA: This CTR study is the most current large-scale US study available. It contains data ranging from Oct. 2012 – June 2013. Google is constantly tweaking its SERP UI, which can influence organic CTR behavior.
MORE DATA: This study contains more keyword data, too. The keyword set for this study spans 17,500 unique queries across 59 different websites. More data can lead to more accurate representations of the true population.
MORE SEGMENTS: This study segments queries into categories not covered in previous studies which allows us to compared CTR behavior attributed to different keyword types. For example, branded v. unbranded queries, and question v. non-question based queries.
See on moz.com